On the occasion of the Milan Design Week 2018, Ottica San Maurilio is pleased to invite you to an exclusive trunk show of the most recent eyewear collections by l.a.Eyeworks.
The inaugural event will take place on April 18th 2018 at 5Vie Art + Design Festival, the suggestive initiative organized with the purpose of promoting innovative projects within the oldest area of Milan, where handicraft meets innovation and it frequently anticipates trends.
Ottica San Maurilio, which embodies the spirit of this exposition in a perfect way, presents an interesting project this year too. It's a project realized in collaboration with l.a.Eyeworks, an innovative brand designed in Los Angeles by Barbara McReynolds, Gai Gherardi e Margo Willits. l.a.Eyeworks is known all over the world for its glasses and their bold shapes, their imaginative combinations of materials and their expressive use of color.
Every model is realized by designer's hand-drawn sketch, then the subsequent step is the meticulous production, where materials are shaped by a combination of technology and hand-finished crafting.
l.a.Eyeworks brand designer Margo Willits awaits for you at the event. With her, you will touch brand products, wear them and know more about the l.a.Eyeworks world.
"We design eyewear to celebrate the diversity of faces and the uniqueness of individuals. The glasses we make are sparks of our imagination. You complete these thoughts and bring the dreams of l.a.Eyeworks into being."
By Barbara McReynolds & Gai Gherardi

SEN brand designers Chikako e Laura will attend the event, too. They will show Neky, the elegant eyewear necklaces co-designed with Tomoko Mizu. They are unique because they are made from kimono silk to wear as a necklace so light and embracing as only silk can be.
Giovanna Grasso and Simone Mazzanti, they also await for you at the event "A face is like a work of art" with l.a.Eyeworks  on Wednesday April 18th 2018, from 6 p.m. with a welcome cocktail offered by the estimated cellar Monferrato VICARA – Visconti Cassini Ravizza.
Please note that you will be able to see the installations l.a.Eyeworks and try on glasses for the entire week from April 18th to 22nd 2018.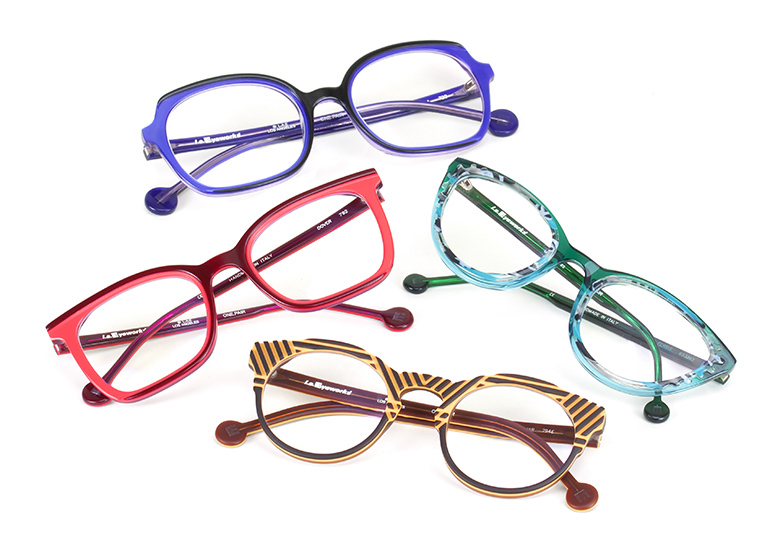 5VIE INTERVIEW Barbara McReynolds and Gai Gherardi, founders and designers of l.a.Eyeworks
1. Tell us briefly about your origins: who are you and what did you study?
We met in high school in Huntington Beach, California, and we have been best friends ever since. Our careers in the optical business began as opticians where we were fortunate to train with some of the best craftspeople in the finest shops here in southern California. In terms of design education, we are
both basically self-taught.
2. From the idea to the project: tell us about your project, how did it start, what
does it start from and how does it interact with the area?
When we founded l.a.Eyeworks in 1979, we felt the expectations for eyewear were bland, confining, and limited. It was a sea of sameness. Our dream was to challenge these preconceived notions and change the conversation about eyewear. We sensed that others shared our eagerness to explore new paradigms and that inspired us to open our first store on Melrose Avenue. We wanted to take a fresh look at everything, from how glasses were designed to the vast, vibrant landscape of color to how frames could be presented in a retail setting.
3. Where do you live? How is your house?
We both have homes here in the hills above Hollywood, not far from our original shop on Melrose Avenue. Barbara's is mid-century, reflecting her interests in architecture, art, and landscaping; Gai's is more free-spirited in its display of her diverse cultural interests and openness to the natural world of the hills above her home.
4. Which are the design items in your house that you would never do without?
It's the most utilitarian thing, but the original Jonas vegetable peeler from Linden of Sweden has outperformed every other design for us!
5. Which is the first design item you have bought?
It wasn't the first item we ever bought, but we adored the La Pavoni espresso machine we bought for a little restaurant called City Café that we opened next to the first l.a.Eyeworks store.
6. How is your typical day?
We embrace the atypical adventures of each day, but we do meet together almost every morning to discuss all aspects of l.a.Eyeworks business, from the development of our design collections to our retail stores to our wonderful staff —and to nurture ideas and dreams for the future.
7. Which design item you would have liked to create?
A 1955 Jaguar XK140 convertible.
8. Which song you would have liked to write?
"King of the Road" by Roger Miller (performed by countless recording artists!).
9. Which are your sources of inspiration?
We are inspired by the diverse landscape of faces we see around us every day, and by the unique light and culture of southern California.
10. Why surface treatment and treated surfaces' power of suggestion are so important in your work?
We are intensely interested in the sculptural qualities of color. Whether it's high-gloss reflection, matte translucency, or carved patterning, we have explored many surface treatments to unveil the complex conversation between light, color, and form.
11. In your opinion, what is the relation among drawing, handicraft and industrial production?
Each of our designs begins with a hand-drawn sketch, so we value the circuitry between the eye, the hand, and the brain. Beyond that, it depends on the trajectories and goals of each design. Sometimes we want to achieve a very warm and hand-wrought feeling in a frame; other designs might call for machined treatments that are more precise and hard-edged.
12. In your works, what is the relationship between the poetic component and the influence of technology?
In our work as designers, the feeling of a frame – its potential to connect with the emotions and personality of the wearer – has always been of the utmost importance. We have certainly been inspired by new technology, but we often push these advances beyond their production value towards more lyrical, expressive goals.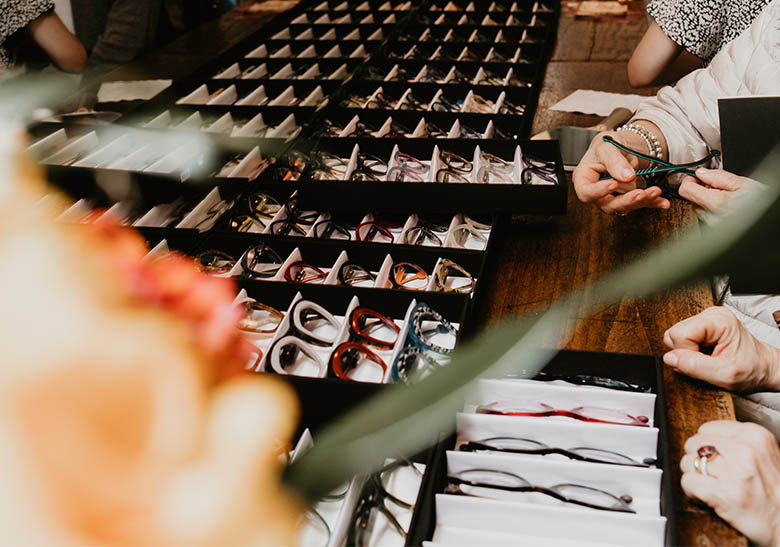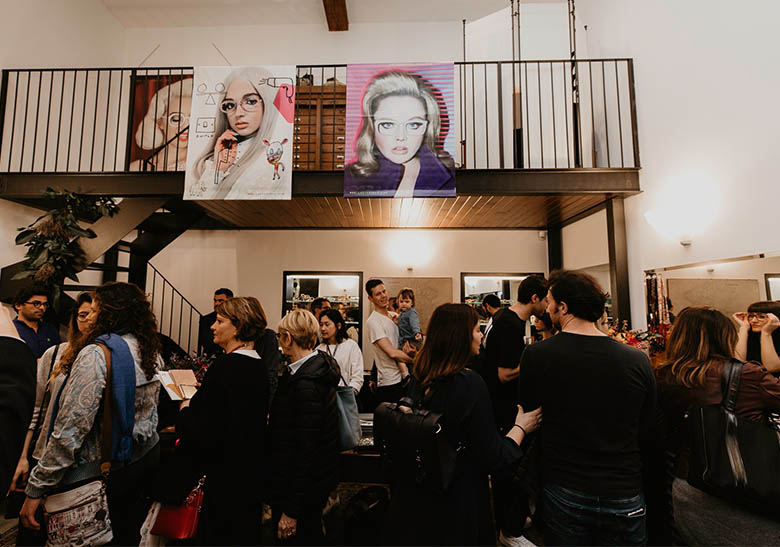 garrettleight



Garret Leight